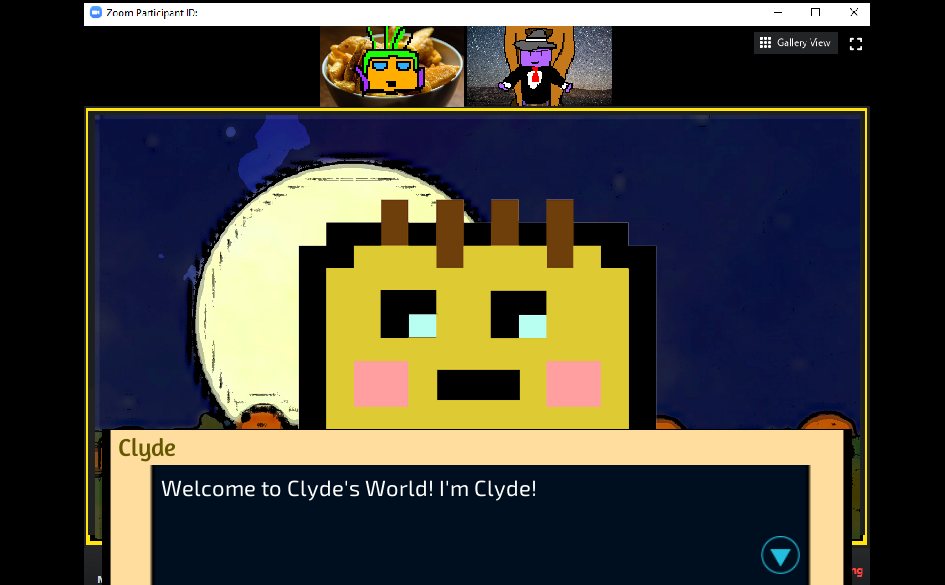 Clyde's World - Episode 1 - Pilot
Publishing on 12/10/2020
I wrote the following notes on goals to fulfill for this alpha.
My process ended up being writing a bunch of potential directions in Notion.so, then drafting an episode script using as many of these things as possible. (May publish these notes as a .pdf)

Then feeling really stressed out.
Then just being okay with whatever turns out building it based off the script and hoping enough of those things are interesting enough to show the potential. Then filling in gaps later.
And it seems to have worked out pretty well!

----------
Notes below written 12/04/2020

Leading up to here

- Made tons of game prototypes, mixed media formats, design docs, and creative direction notes
- Maybe all those previous prototypes and stuff are gonna be considered "Proto Clyde" or "Classic Clyde" whereas stuff moving forward is "Clyde Canon"
- The feedback from professors is that the creative direction is there, but now it's enough of that, time to make an alpha build that somehow synthesizes a bunch of concepts (definitely not all of them)

Alpha Build Direction
- Somehow it will combine all my approaches and interests in the past year and a half of grad school so far
- Including but not limited to:

Mixed Media (various prototypes a la Homestar Runner)
Internet Culture, (in particular Flash games aesthetic a la talk via Babycastles)
Critical Thinking (a la Dank Memes Training module)
Intersectionality (Race, gender, sexuality, my exp as an Asian Male)
Psychology, Mental Health, Neurodivergence, Anxiety, Depression (Why on Earth would I be interested in these particular topics...?! I do feel strangely drawn to them tho...)
Economics, Attention Economy (a la my working life experiences)
Philosophy, Free Will (a la my interest in YouTube, Wikipedia, and me being an angsty Philosophy minor in undergrad)
Personal experiences
And I gotta do it in less than week.
No problemo, yo!
Current ideas at the moment
- Make it like a playable educational show! But we gotta make money
- Affiliate Links! Sponsorships! Patreon! Ko-Fi!
- "Make it a wiki" - says a classmate
- classmate thought my game was a wiki when I did a presentation... what a ridiculous idea!
- ...But then I thought, what if the game, was a wiki?

Files
Clydes-World-12-11-2020-Alpha-v2-HTML-Build.zip
64 MB
Dec 11, 2020
Get Clyde's World - Episode 1 - Pilot